Congrès L.UCA.RRE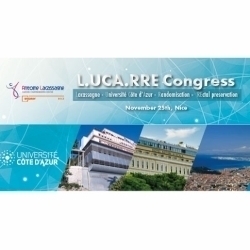 Welcome to Nice and Science !
« It is my great pleasure to invite you to the 1st edition of L.UCA.RRE Congress which will take place on Saturday November 25, at the Aston La Scala Hotel, Nice
This one day congress will feature international and French expert faculty. It will be dedicated to organ preservation for distal-middle rectal cancers.
Data presented will be exclusively reporting the ten ongoing randomized trials with different strategies aiming at rectal preservation : Total neo-adjuvant treatment with various RT-chemotherapy regimens, External beam radiotherapy dose-escalation, local excision and endocavitary brachytherapy boost. Some specific data from the OPERA trial will open the discussion upon immunology, radiology, local excision and endoscopy. A multidisciplinary board will end the session.
Quality of life, treatment de-escalation are topics of increasing interest in oncology. Using the data of these randomized trials you will get the best of Evidence based medicine to understand when and how you can propose rectal preservation to your patients"
Visit our web site : https://www.lucarre2023.com/
Propriétés de l'événement